Breaking Down in Your Car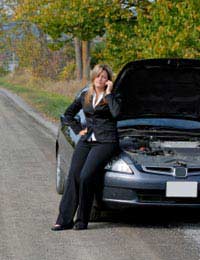 It is important for everyone to remember - male or female - the dangers inherent of being stranded in the middle of nowhere, especially in the dark or in bad weather conditions. Nowhere is this scenario more common than when breaking down in a car.
It is all to easy to say it will never happen to me but for many thousands of people every year in the United Kingdom it does happen and it is best to be prepared rather than to be left stranded and vulnerable to the elements.
Have Your Car Serviced
Many people forego having their car serviced especially if all seems well. It is all too easy to think that our vehicles will run smoothly until their next MOT and then the mechanics will spot the problems but this is simply not the case. Something as simple as a slipping fan belt, a flat tyre or a leaking radiator can leave us stranded between destinations.
If you have recently bought a new car then it will be due a service at the ten, thirty or fifty thousand mile marker; these mileage indicators are used as a means of establishing how long it takes a car to be 'run in' as the technical term describes it.
If you are venturing on a long journey especially one that you have never made before it is certainly a wise investment to have your car checked over by a qualified mechanic before setting off.
What to Keep In Your Boot?
Rather than store a lot of old unnecessary junk in the boot of your car it is wise to make sure it is cleaned out and only those items you need are stored in there. Of course a spare tyre is a must along with the proper equipment to change a flat if you ever have one. If you don't know how to change a tyre it is worth asking someone to show you. It will stand you in good stead later on.
In addition an 'accident kit' is also a good investment; an 'accident kit' consists of:
Give Way Triangle
Warning Lights
Torch
Heavy Coat
Blanket
First Aid Kit
Road Map or Atlas
If you break down it is important that other drivers on the road can see you especially in the dark. Make sure that you have switched on your hazard warning lights and if you have one, make sure you are displaying a 'Give Way Triangle': this will make sure that drivers driving behind you will give you a wide berth.
Mobile Telephone
A large number of us now have mobile telephones but if you don't have one it may be worth considering the purchase of a mobile telephone, even if it is only for emergency use. A mobile telephone is invaluable especially if you have broken down in an area you are unfamiliar with. Being able to call for assistance or simply calling someone to talk to you while you wait for the emergency services is a great help and a huge relief also. A mobile telephone is also less expensive than satellite navigational equipment.
What to Remember When You Break Down
There are a few things to remember should you break down; they may sound like common sense pieces of advice - and indeed they are - but it is important to remind ourselves of them just in case.
Stay Calm
Stay Warm
Stay in Your Car
Don't Panic
Don't Leave Your Vehicle Unattended
If you do break down - regardless of gender - stay with your vehicle; this make it easier for the emergency services to locate you. It is also a good idea to stay in your car if the weather conditions are poor; fog and heavy snow can make visibility poor and it is not uncommon for individuals to be knocked down whilst moving away from their vehicles in such conditions.
One of the best pieces of advice we can offer however, in addition to the aforementioned advice, is to speculate the money for the membership of an organisation such as the Automobile Association (AA) or the Royal Automobile Club (RAC); either of these two organisations can be on hand at the making of a telephone call to assist you in a break down emergency.
You can find out more information about either of these organisations are their websites which are: (for the AA) www.theaa.com or www.rac.co.uk.
You might also like...