British Transport Police and Personal Safety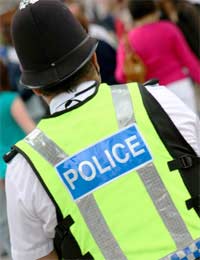 British Transport Police (BTP) operate across the UK's rail networks. They safeguard the journeys of 6 million passengers a day across 10,000 miles of track.
BTP Coverage
BTP has over 2,000 police officers stationed across the seven geographical areas covered by the railway network. The BTP provides a service for railway operators. In addition to the overground rail network the BTP also polices the London Underground, the Glasgow Subway and several other domestic rail links such as the Croydon tram link, the Docklands Light Railway and the Midland Metro trams.
BTP works with local police forces in the seven geographical areas in order to target crime and ensure the personal safety of train travellers. They employ the latest technology to be as effective as possible. For example there is extensive use of CCTV across the rail network to help identify crimes and criminals.
Mobile Phone Theft
Mobile phone theft makes up 45% of crimes reported on the London Underground. BTP is working to tackle this crime and also undertakes campaigns to advise the public on how to avoid becoming a victim. Tips include – don't be conspicuous in using your phone, don't walk and talk, don't leave your phone lying around and register the phone so that the SIM can be blocked if reported stolen.
Pick Pocketing
Pick pocketing is on the decrease since BTP began targeting it in 2000. They have increased high visibility policing in target areas. Advice includes keeping purses and bags zipped up, carry purses and wallets in inside pockets or securely within bags, hide your money and do not display jewellery.
Football
BTP ensure the safety of fans travelling to and from sporting events by policing the minority of disruptive elements. 5 million football fans travel on trains each year and only a tiny percentage of that number cause any problems. Frontline BTP staff have the powers to arrest those who are being antisocial or threatening the safety of other fans.
Route Crime
Route crime is the name given to trespass and putting obstacles in the way of trains. Not only does this cost over £150 million a year, it endangers lives. Vandalism and stone throwing can cause damage to trains and potentially derail them; it can also delay trains and disrupt travelling for passengers. BTP works alongside rail operators to go into schools and attempt to educate potential offenders about the dangers and damage caused by route crime.
General Advice
BTP encourage rail travellers to use their common sense in order to protect their personal safety. Inform others of your journey times, carry a mobile phone and keep your money concealed. Keep to well lit areas and attempt to look confident at all times. Keep your valuables safe and well hidden.
On board make sure you feel safe in your carriage. If you do not then move and/or inform a member of the train crew. Hold onto the strap of your handbag and try not to reveal personal details which could appeal to thieves, for example by displaying them on a laptop or mobile phone. Identify where the alarm button is in your carriage so that you can find it in the unlikely event of needing to use it.
Safer Station, Safer Journey
The British Transport Police currently have a campaign called 'safer station, safer journey'. Its aim is to have highly visible policing of railway stations to help reduce crime and ensure the personal safety of commuters and travellers. There is a commitment to neighbourhood policing with small teams patrolling stations. It is hoped that with British Transport Police in evidence this will increase security and safety for travellers and reduce the incidence of vandalism, violence and other crime.
There is an emphasis on working with local communities to address safety issues which are of local concern. As well as safeguarding personal safety at railway stations there is also practical discussion of issues on local train lines as well.
Report a Crime
There is also a dedicated telephone number where anyone can report a crime to the British Transport Police. The number is 0800 40 50 40.
You might also like...