Personal Safety When Using Public Transport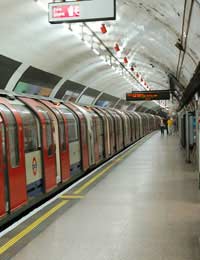 Fewer and fewer of us use public transport these days. In fact we're now six times more likely to jump in the car than to catch a bus or train! One factor in this trend is the degradation of safety on public transport. Men and women cite fear of groups or lone people as a key reason to avoid bus and train stations. However there are things you can do to improve your personal safety on public transport. Here's our guide to safe journeys…
Personal Safety on Public Transport
Environmentally, socially and economically, public transport is a good thing. But many of us still hop into the car instead of catching a bus or train. Do safety concerns put you off? According to the Department of Transport, 11.5% more journeys would be made by public (instead of private) transport if people felt safer.
The Department also asserts that incidences of crime on public transport are very rare. But it's not just muggings that we're worried about – what about intimidation, harassment and vandalism? Even if we're not victimised, feeling afraid of fellow passengers or a lonely station can affect our journeys. Don't tolerate it – do something about it!
Safety at Train and Bus Stations
The Department of Transport awards Secure Station accreditation to train and bus stations that have good safety standards. There are four criteria that stations must meet – they should have:
Careful, open and safe station design (a good layout, clear signs, maps, and timetables)
Efficient communication between station staff (who should be visible and available when you need them)
A set of policies for reducing crime at the station (including measures like anti-graffiti paint and good lighting)
Passenger surveys that show a general feeling of security.
Check whether your local station has reached these standards. Here's what you can do to improve your safety at train and bus stations:
Arrive punctually, so you don't have to wait for long periods of time
If the station is quiet, stand in view of a CCTV camera
Be aware of the people around you
Don't let bags out of your sight
Keep your purse or wallet, camera, and maps hidden.
Safety for Pedestrians
If your journey is shorter than a mile, you might choose to walk. Although walking is a great way to get to school or work, we're all walking less these days. If you're concerned about safety, here are some tips to make you feel more confident.
Carry a stick or umbrella
Keep a mobile phone close to hand-but not on view
If walking after dark, carry a personal alarm (available for about £10)
Ask someone to come with you
Take a dog!
Walk briskly and confidently
Leave your handbag or wallet at home
Avoid poorly-lit areas
Children don't walk to school as much as they used to. Leeds City Council is currently piloting a number of schemes to encourage children to walk and cycle to school. They are developing a programme to train children in pedestrian skills, and working with a local road safety officer to help deliver this. But any parent can initiate a 'buddy' or escort scheme to help local children walk safely to school.
Don't forget that children are more likely to be hurt in a car accident than they are to be harmed by a stranger. Give your children a good grounding in basic road safety – coping with traffic, ignoring strangers, walking in well-lit open areas – and then accompany them on a couple of test runs. You might even find that your children enjoy their new independence. Whatever you do, make sure your children can travel with their heads held high. And the best way to do that is by setting a good example.
You might also like...
@Jonbarbra I've always thought the same myself and wondered given there is so many health and safety issues everywhere else, funnily enough it doesn't apply to our transport system. But I imagine if they kept to health and safety on the trains then no one would ever get on a tube at rush hour (as they must be the worst offenders - cases everywhere and people rammed up against doors). But I completely see your point. Trains can be hazardous. In theory they really should have the same safety procedure as aeroplanes, all luggage stacked away and one person per seat, but I don't imagine that is ever going to happen.
Seb
- 14-Jan-15 @ 9:53 AM
I have travelled frequently on Great First Western Tarka line since moving to Devon six years ago and I am disgusted by the overcrowding and more seriously the safety issues on these trains, there are no heavy luggage storage spaces so consequently suitcases are placed on seats or in the aisles making it difficult for passengers to move and has been the case several times of the ticket inspector unable to do his job. If there should be an emergency at any time, fast evacuation would be impossible. I once questioned the conductor on where we should put our cases and he suggested by the doors, which begs the question, are these staff trained on safety issues. I know many passengers have raised these points over the years, but nothing seems to have been done.
Jonbarbra
- 13-Jan-15 @ 12:57 PM