Drink Spiking: Tell-tale Signs and How to Avoid it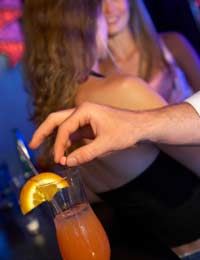 Drink spiking is a real, but often underestimated risk. It is a phenomenon to which a worryingly large number of people have fallen victim, and about which everyone should be aware.
Drink spiking is a very unpleasant thing to happen. But with a bit of caution and an understanding of the problem, you can help to minimise the risk of you falling victim.
What is Drink Spiking?
Drink spiking involves someone putting a substance in your drink without you knowing about it. Rohypnol is perhaps the most commonly known (or most infamous) spiking substance, but in reality there is a huge range of things that could be added to your drink.
The intention of drink spiking is normally to change your state of mind in order to make you act in a way that you would not otherwise act, or make decisions that you would not otherwise make. There is a range of potential motives for this. Some people spike drinks with the intention of robbing their victims, for example, while others intend to carry out a physical or sexual assault.
Am I at Risk?
Broadly speaking, if you are in a public place and you are drinking, you could be at risk from drink spiking. This might sound dramatic – and of course, the vast majority of people will never experience drink spiking. But it is important that you are aware of the risks in order to protect yourself.
There are a few key things to remember. First of all, you should understand that it is not just people drinking alcohol who are at risk of drink spiking. Whatever you are drinking, you should remain sensitive to the risk.
It is, however, people who are drunk who tend to be most susceptible. If your judgement is already impaired, then you are less likely to be thinking about the risks.
Finally, there is a common misconception that it is only women who are at risk of drink spiking. This is absolutely not the case. Both men and women could potentially fall victim to drink spiking, and you should therefore remain vigilant whatever your gender.
What Are the Signs?
The signs of drink spiking can vary quite dramatically. They will depend on factors like the substance used, and whether or not you were already drunk at the time that your drink was spiked. It can therefore sometimes be difficult to determine whether or not your drink has in fact been spiked.
You should pay particular attention, however, to a few symptoms. These include amnesia, slurred speech, loss of limb control, or difficulty remaining conscious.
It is also important to understand that it can take some time for the effects of drink spiking drugs to be felt. While some begin to work within just a few minutes, others may not have an effect until as much as an hour after they are ingested.
How Can I Avoid it?
Remaining vigilant is the single most important way in which you can help to minimise the risk of falling victim to drink spiking. All too frequently, drink spiking occurs simply because drinks are left unattended. If you go to the toilet, or go outside for a cigarette, make sure that someone is looking after your drink. Do not leave it out of sight.
You should also note that the risk of you having your drink spiked is significantly increased if you are already drunk. While you are out, try to make sure that you retain control over your actions. If you feel yourself becoming too drunk, or if you are having difficulty making decisions, stop drinking alcohol and switch to water. Where possible, tell a sober friend how you are feeling and have them look after you.
What if I Think my Drink Has Been Spiked?
If you begin to feel unwell you should immediately tell a friend who you trust. Your next step will then depend on how you feel. If you feel that your symptoms are not particularly severe, you should contact the police first. They will advise you how best to proceed. If, on the other hand, you feel very unwell, you should go to A&E or contact a paramedic immediately.
Where possible, hold on to the drink that you believe has been spiked. This can be used as valuable evidence in any criminal trial – and a successful prosecution can result in a prison sentence of up to 10 years.
You might also like...