Simple Rules for Getting Home Safely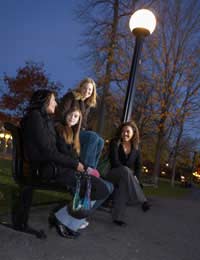 No one wants to spend their life panicking, and no one want practicalities to get in the way of fun – particularly on a night out.
But this doesn't mean that we shouldn't think about our safety. It is important to recognise that we all face a range of risks every day. This is a fact of life. But there are a few things that we can do to help keep ourselves safe.
Getting home is often the riskiest part of an evening, particularly if you have been drinking. But by following a few simple rules you can help to ensure that your evening ends safely and happily.
Plan Your Route Home
This is one of the most important things you can do to help ensure a safe trip home. Make sure that you have a firm idea of how you will get back before you set off. If you are going somewhere unfamiliar, investigate transport options well in advance. There are many online services to help you do this, particularly if you are visiting a large city.
Tell Someone Where You Are
Make sure that someone knows where you are, and how you are getting home. You should also make sure that you are contactable, and that you have a way of letting this person know if you are going to be late. Charge your phone before you go out, in order to avoid finding out that your battery has gone just when you need it.
Don't Wander Off
Don't leave your friends and decide to go home on your own. This is, again, particularly dangerous if you have been drinking. It is almost always better to stick together and make plans as a group, than to go off alone. If you do have to go home alone, make sure that you have told people that you are leaving, and that you are contactable.
Don't Take Unlicensed Cabs
This has now become a widely publicised government campaign, but it remains a very important issue. You should never take an unlicensed minicab. These can be very, very dangerous. Unlicensed minicabs are not tracked, and there is no record of their movements. This means that no one will know where you are if you take one. Save the numbers of a couple of reputable tax firms in your phone in order to make sure that they are to hand when you need them. It is also worth remembering that even licensed minicabs are often only insured if they are pre-booked. Check before you get in.
Don't Accept Lifts from Strangers
Again, this seems basic, but it is so important. You should never take a lift from anyone you do not know. You might be tempted to get a lift home with someone you meet while you are out – particularly if you have been drinking. But this can be very dangerous, and taking a properly licensed cab would be preferable.
Consider a Designated Driver
This is a very common practice in America, but it sadly hasn't yet caught on in Britain. Before heading out, consider designating an individual who won't be drinking. This person can be responsible not just for driving, but also for making sure that the rest of the group are OK. Of course, the position can be rotated amongst your group over several nights out. Some clubs and venues now operate a policy of free soft drinks to designated drivers, in order to encourage the practice. It seems likely that this will grow in popularity in the coming years.
Let Someone Know You're Home
Finally, make sure that you let someone know when you have arrived home safely. This will help to ensure that no one worries about you, and will prevent people looking for you or panicking unnecessarily. Similarly, try to ensure that your friends let you know when they are home so that you can be sure that everyone is OK.
You don't need to spend all your time worrying about safety, and you certainly don't need to worry so much that you can't have fun. But by sticking to a few simple rules, you can help to make sure that your evening passes off without a hitch.
You might also like...