Personal Safety When Using Internet Chat Rooms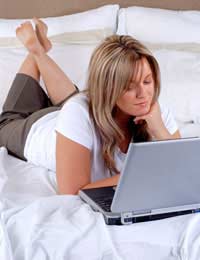 Chat-rooms are notorious dens of iniquity. But we all use them – even if you think you don't. The early Internet chat-rooms have become more sophisticated tools for communicating with friends and family. New chat-room-style sites have sprung up in the last decade: think of Facebook, MySpace and Blogspot. In fact, a chat-room is any site that enables it's users to communicate with one another. The question to ask yourself is: who are you sharing your intimate secrets with?
Chat Room Terrors
According to the NSPCC, 50% of children have suffered from bullying or abuse on a social website. The problem is so widespread that Microsoft closed it's online chat-rooms a few years ago. But children aren't the only ones who are under threat. Fraudsters commune in online chat-rooms, targeting vulnerable adults by posing as blondes, poverty-stricken Africans, or lonely hearts. Sometimes a fraudster will work to gather a profile on you before attempting identity fraud. People using social networking and blogging sites are easy targets, too: how much of your personal information can be gained from reading your comments or thoughts?
Guarding your Identity
In a chat-room, you can be anyone you like. But don't forget that everyone else can be, too. Be very careful about the personal information that you include in your profile. Even your username could give away snippets about your real identity. Choose something obscure, such as an old television character, or one of your favourite hobbies. Never use a pet's name, street name, or anything related to your real life.
Check out the site's privacy policy. What type of information does it hold about you? Who will it sell the information to? Can strangers tap in to details about your real identity? Once you have made sure that the site is reliable, don't allow it to pass on your details to anyone else. Even social sites like Facebook will pass on your details (when you download an independent application) – and you may not realise you've given consent.
Things to Remember
If you think you'll forget, print and pin-up this list!
Never use your real name, or a variation on it, in a chat-room. Inventing a nickname is the safest solution.
When you register, look for an option that will allow you to keep your email address hidden. Check your Profile to see what's being displayed to the world about you.
The second anyone 'says' anything that gives you the slightest discomfort – or suspicion – log out, and ignore them. Switch off the computer and walk away!
Don't post any photographs of yourself or your family.
It's terribly obvious, but humans are intuitive and compassionate – it's easy to be drawn in to a circle of trust. Never assume that you can trust someone you've met in a chat-room. Don't give out your real name or address.
If you use a social site or blogging software, be careful. Don't use your real name or location; never hand out your telephone number; and don't download all the extra applications. Who is your information going to?
Considering meeting someone you have met in a chat-room? Take it very seriously. Meet in a public place and take someone with you. And if you're under 18, don't meet anyone without talking to your parents first.
Don't forget that casual acquaintances could be virus-spreaders. Don't open attachments unless you know what they are.
You might also like...