Safe Computer Use For Children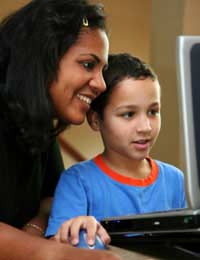 Is your family computer a safety hazard? We hear about the dangers awaiting children online every day. From moving the computer to surfing online there are dozens of potential hazards associated with PC usage. Reduce your risk by taking action now with our guide.
Sitting Down At The Computer
You wouldn't think it but sitting down to switch on your favourite site harbours risks too.
Take a few precautions to avoid this type of accident:
Tuck electric and USB cables away from walking spaces, preferably beneath the desk
Don't overload your sockets – fit surge-protected multi-socket extensions that attach via a wire, not the plug.
Keep drinks, food and plants away from the computer desk
Don't let the children muck around on swivel chairs
Provide a foot-rest and make sure that children can adjust the seat so that the monitor is at eye-level.
Make sure that children don't spend hours staring at the screen – encourage them to take breaks and get fresh air.
Surfing Safely
Children are at a high risk on the internet, where anyone can pretend to be anything. Potential exposure to adult content and gambling sites can easily be curtailed, at least until the children are old enough to out-manoeuvre the technology!
Beware, also, of leaving passwords or user details lying around – it can be tempting for children to play on shopping sites and to click 'buy' without thinking.
Safe Surfing Essentials:
Make sure that your firewall, anti-virus and anti-spam filters are installed and updated. Run a system scan regularly. Children with email accounts should be made aware of the risks of opening attachments.
Ask your Internet Service Provider (ISP) about their Parental Control options.
If not provided by the ISP, you can purchase software that gives you more control over web access, prevents passwords or personal data from being entered, and records online history (pages your children have visited).
Give children a limited amount of time on the computer each day to prevent eyestrain or headaches.
Using The Computer: What Children Should Know
Print out the following checklist and keep it beside the computer for the whole family as a reference for safety online.
Don't give out your name or address to anyone online.
Don't purchase anything online without consent from Mum or Dad.
If you receive an email from someone you don't know, don't open it or reply.
In chat-rooms, forums, and social websites, pick a username that doesn't include your real name or birthday.
Don't upload any photographs of yourself, your home, or family.
If anyone makes a rude comment to you on a chat-room or forum, tell Mum or Dad.
Don't give out any details about your bank account, telephone number, or passwords – even if it looks as though a friend or bank has emailed you to ask.
Never arrange to meet anyone you have only talked to over the internet.
You might also like...