Children And Holiday Safety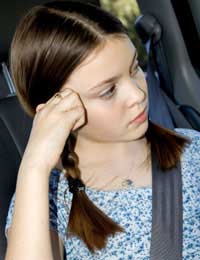 Planning a holiday with the kids this year? Anxious about sun-cream factors, kids' clubs, seatbelts and insect bites? Read our quick guide to staying safe on holiday with children.
Travelling By Car
Belt up

1,269 children were killed or seriously injured in a car last year (Department of Transport). The law states that children must use suitable restraints, whether travelling in the front or back seats.

For babies aged 0-9 months, this is usually a rear-facing baby seat, which offers better spine and neck support than a forward-facing seat. This should be strapped in using the adult belt and should never be used in a passenger seat, which has an airbag.

From 9 months onwards a forward-facing baby seat is recommended: again, it's safer to put this in the back of the car.

From 4 to 11 years, booster seats and then cushions are ideal. Designed to work with the adult belt, the booster seats ensure child safety in the event of a crash, and they also provide better spinal and head support.

If your children go through the "taking off my belt" phase, RoSPA suggests explaining the importance of belt safety; if that doesn't work, threaten to stop the car.

Take a break

For adult and child safety, you should make a rest stop on long journeys. Try to stop every two hours for everyone to stretch their legs and get some fresh air, which will improve comfort levels. If you're travelling a very long way, drive late at night so the children can sleep most of the way.
Out And About
Children have little regard for sunburn and insect bites… until they strike. Pack a kit of safety essentials so you're well equipped to prevent – and handle – any little disasters. It should include:
Insect protection: If you are travelling to an exotic destination, take both preventative and aftercare treatment. For babies, choose a natural option
Suncream: because children have thinner skin than adults, they're at greater risk of sunburn and associated problems. Apply cream (at least Factor 15) before your children go out, and keep re-applying every two hours (and after swimming).

When buying your children's summer clothes, look out for sun protection information on the labels – especially on swimwear. It's a good idea to keep the children inside for two or three hours at noon when the sun is at its highest, particularly if they have fair skin.

Hats and socks: Dress small children and babies in a sun-hat, preferably one that covers the back of their neck too.
Baby floats and arm-bands: Babies too young for arm-bands can use special baby floats with seats and leg-holes.
Shade tents: You can buy family-sized beach tents that provide shade during the hottest part of the day. They're great for families with babies.

Holiday Clubs And Activities

If you've booked a holiday with built-in childcare – in the form of a kids' camp – you can look forward to some peaceful days on the beach. And you're quite entitled to it. Just make sure you find out what the children will be up to before you depart.

Are the holiday club staff subject to police checks?
What's the staff-to-child ratio – are they able to manage the number of children in camp?
Which professional body regulates children's activities in the country you're visiting? Do they comply with international standards (like ISO)?
Do special instructors (e.g. surfing, rock-climbing, swimming) hold the right qualifications?
Is the club regularly inspected? (If in Britain, check with the British Activity Holiday Association online.)
Are there first-aid facilities and a first-aid trained rep on site?

Don't Forget

This isn't the time to worry about 'what if's' all day and all night – book the children into a supervised crèche or activity and make time for yourselves too. After all, you do need to be nice and relaxed for the long

You might also like...