Health and Safety for Homeworkers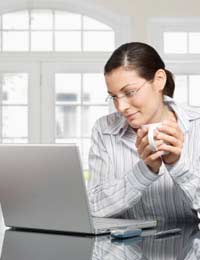 Did you know that, even if you work at home, you have obligations under the Health and Safety Act? Here's an introduction to basic home safety for the self-employed and other people working at home.
Doing A Risk Assessment
Under the Health and Safety at Work Act (1974), employers are obliged to protect their employees' welfare. There are other Regulations that come into play here: the Management of Health and Safety at Work (1999) calls for employers to carry out risk assessments; and the 'Manual Handling Operations' (1992) and 'Provision and Use of Work Equipment' (1998) regulations also apply to some homeworkers.
Whether you're employed or a sole trader, it's useful to carry out a risk assessment that will identify hazards in your working environment. Here are the five basic steps of a Risk Assessment.
Identify hazards. A hazard is anything that might cause harm, such as heavy loads and equipment, sharp edges, electrical equipment and systems, trailing wires, and substances or materials that are flammable or otherwise hazardous. (Only substances related to work need be assessed, although it's a good idea to cover your entire working area.)

Don't just consider the physical environment – also take into account any other hazards of homeworking. Does your home telephone become a work line during the day? Do out-of-hours calls cause homeworkers undue stress?

Identify the people who are at risk. This helps you to assess the scale of the risk – for example, storing harmful chemicals won't just affect an employee but also their children. Take visitors and passers-by into account, if they are likely to be exposed to the work or hazards.
Take action to reduce or remove risks. The action will depend on the risk you've identified, but it could range from fixing wires safely out of reach to attending training for lifting things.

In the case of hazardous substances, employers are required to consider a less hazardous alternative. If that's not possible then other options include: protective equipment like gloves or masks; providing better ventilation; ensuring that the employee is adequately trained to protect themselves from the hazards; monitoring exposure levels; and training employees in risk and prevention. You can read more about office safety and using PC equipment in our article (see left menu).

Finally, record the risks and the actions you've taken. This step only applies to employers with five or more employees, whether they work at home or not. It's important as it provides documented evidence that efforts were made to reduce risks.
Repeat the assessment as appropriate. If homeworkers change circumstances the assessment should be repeated, and a regular revisit is appropriate in most cases.
Other Obligations
If you're employed, your employer must keep a record of any accidents that you have while working at home. (S)he must also consider First Aid training if appropriate to your circumstances and requirements. If you're a homeworker and you need advice, your first call should be to the Health and Safety Executive, which has regional offices (find the number in your phone book).
The Executive's Inspectors are entitled to visit homeworkers to make sure that risks are documented and properly managed. So don't get caught out.
You might also like...