Using PC Equipment Safely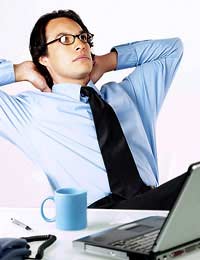 The advice to "stay safe" at work doesn't just apply to warehouse and plant operatives. Even if you work with computer equipment, there could be unseen problems causing you aches and strains. Here is an overview of applying ergonomics to computer equipment, helping you to stay safe and comfortable at work.
Assessing Ergonomics At Work
Ergonomics doesn't just mean posture and comfort – it refers to the location and usability of equipment, taking into account employees' working routines, personalities and requirements. You should begin by asking basic questions such as: Do you experience any aches or routine discomfort in the working day? Have you suffered any accidents at the office, particularly repeated ones? Do you feel confident and comfortable at your desk and in the office?
It can also be useful for employers to check records to see if there are any patterns in sick leave or accidents – there could be a common cause that can be remedied.
Working With Computers And Associated Equipment
Computer equipment, and especially screens, can be a particular cause of problems. But there could also be some surprise problems in your workplace: for example, boxes of printer paper and cluttered floor-space could be causing aches and trips. Here are some common scenarios – and suggested solutions – to help you identify risks in your workplace.
Problem:Light reflects from windows or overhead lights, causing screen glare, which causes the user to squint – experiencing headaches or eye strain.

Solution: Fit a screen cover designed to reduce screen glare. Consider changing the style of overhead lighting, and fit blinds to the windows so that they can be partially closed during the sun's brightest hours.

Problem: Employees have to look upwards or downwards at the screen, or slouch in their chair to read the screen properly.

Solution: Provide height-adjustable chairs so that employees can ensure they are positioned at the right height for the screen and keyboard.

Problem: Frustration is caused by inefficient software or hardware, such as a PC that has too much on the hard drive to cope with daily tasks.

Solution: Update PC software and hardware regularly, ensuring that it is adequate for the tasks performed by users.

Problem: Secretaries or receptionists are suffering from neck strains because they are required to type telephone messages, while holding the telephone between neck and chin.

Solution: Provide hands-free telephone sets which enable employees to answer calls at a click of the mouse.

Problem: Employee is making more mistakes late in the afternoon, or is suffering from stress and sleepless nights.

Solution: This could have many causes, but you can start by implementing regular afternoon breaks, providing a restful spot for employees to take a break – increased productivity will result. Prolonged periods of PC use can lead to mistakes and frustration; it is better for everyone if users take frequent breaks, possibly walking around the grounds or relaxing in a comfortable chair. Make sure you have provisions for this.

Problem: Employees are suffering too many lifting-related accidents – aches, pains, and injuries.

Solution: This problem requires a risk assessment. But you can take sensible precautions such as giving workers regular breaks and rostering lifting tasks so that nobody is put under undue strain. Arrange storage units so that heavy items are at waist height, and make sure that employees are trained to lift correctly.
You might also like...