Mobile Phones as Safety Devices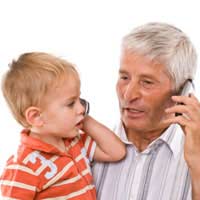 The mobile phone – life-saving device, or a serious threat to your health? We weigh up the positives and negatives of having a mobile phone in your pocket.
Mobile Phone Safety for Kids
If your child gets lost, stranded, or something worse, then the mobile phone in his or her pocket could save their life. Child abduction figures are the lowest they've ever been and this could be partly due to improved communication technology. So giving your child a mobile phone isn't just giving in to their demands – you could be giving them a lifeline. On the other hand, the safety of mobile phones themselves has been widely debated in the last decade. And we're no closer to a satisfactory solution.
What's the Story on Phone Radiation?
Government guidelines say that mobile phones don't represent a radiation threat, and that's the story they're sticking to. However, many people are uneasy, because there's still some evidence showing that electromagnetic radiation (from microwaves and mobiles) can cause health problems.
Amidst the surveys that show no increased risk of cancer, a few turn up contrasting results, which are enough to give us grounds to worry. Last year, research in an Israeli laboratory showed that exposure to mobile phone radiation stimulates cell production and division. Cancerous tumours are caused by excessive cell production – which raised new doubts about radiation, especially in children, who have a lifetime of mobile usage ahead of them.
However, other scientists pointed out that cell division is a natural occurrence. People contracted cancer before the invention of mobile phones, and the rate at which radiation stimulated cell growth wasn't high enough to pose a threat. The government retained its position. In other countries, people are advised to use hands-free sets and keep mobile use to a minimum in order to reduce the risks of radiation.
Increased Risk for Children...?
In 2000, the government's Stewart Report indicated that children and teens are at higher risk of radiation because their skulls are still developing.
Choosing a Safe Mobile Phone for Kids
If your kids use mobiles frequently and you're worried about radiation, take a look at some of the reduced emission phones that are now available. Invented specially for children, they typically feature a chunky, toy-like design. One (i-kids) includes a tracking facility, so parents can locate their child at any time.
Of course, the best thing for any parent to do is encourage their child to use the phone sensibly – using the home phone to chat and keeping the mobile for emergency use. When a mobile phone heats up against your skin, it's a good sign it's time to end the call.
Mobile Phone Safety for Elderly People
Clearly, for an elderly person living alone, a mobile phone can be very useful. Easy to carry around and pre-programmed with important numbers, it's an important line of security to many OAPs. And the technology could soon enable those mobile phones to do even more! For instance, in Japan, other electronic devices can be connected up to a mobile phone. A kettle can be set up to send a signal to the mobile each time it's boiled. The mobile can be programmed to send a message to a family member, letting them know that their elderly relative is up and about. It's a simple way for an older person to ensure that, if anything happened, their family would quickly be alerted.
Keep losing that mobile phone? Japanese inventors have a solution to that, too. They've created a 'locator' that can find the coloured fobs attached to things like mobiles and pill cases (which bleep when activated). Perfect for the elderly – and anyone with a poor memory!
Finding an Easy-To-Use Phone for Elderly People
Mobiles are getting more and more complex, but the industry hasn't neglected the silver market. There are now a number of phones designed for older people – including those with visual or physical impairment. You can pre-programme numbers into some handsets, which makes it easy to access support in an emergency. The RNIB publishes a guide to choosing accessible phones. There's also a Personal Alarm offered by BuddySafe, which is a one-button fob linked to a mobile. When pressed it sends a message to nominated friends or family, giving extra security at the touch of a button.
You might also like...
I'd really recommend a mobile for elderly people. I bought a pay as you go for my mother, and kept reminding him to carry it with her all around her flat and whenever she was out (and to keep it charged and on!) so she could be contacted any time, and was always able to get in touch with others. I programmed a few numbers into it and showed her how to reach them. Very, very worthwhile and great peace of mind.
Nina
- 6-Jun-12 @ 6:58 PM
I recently took part in a debate concerning mobile phones and was actually opposing the motion that mobiles were a positive thing in society. Although I do think highly of mobiles, it feels that the county has gone over the top and it is now just a competition to see who has the best one.
Weasy
- 22-Mar-11 @ 11:11 AM