Personal Safety in Hotels and Hostels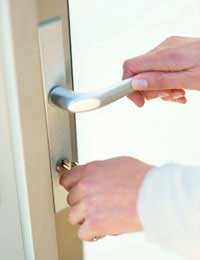 Hotels and hostels can be great places to meet fellow travellers or holiday makers and unwind at the end of a long day's sight-seeing. Great hostels and hotels function as a 'home away from home', providing you with comfort and security. It is important to remain safety conscious when staying away from home, however. Take a few simple steps to avoid hazards such as theft, fire and illness.
Keep your money and travel documents with you
If you are staying in a hostel, be sure to keep your money and travel documents with you at all times. Wear them in a pouch tied around your waist, or keep them in a secure inner pocket. Do not store valuables or important documents in hostel lockers. If you are staying in a large, secure hotel, consider storing your valuables in the hotel safe.
Keep away from drug dealers
In some cities, drug dealers congregate around hostels, attempting to sell illegal drugs to guests and travellers. Avoid eye contact with these individuals and, if they try to speak to you, simply say, "No thanks" in a clear and firm voice and walk away.
Be fire safe
As soon as you arrive at your hotel or hostel, be sure to acquaint yourself with their fire procedures. Take care to note the nearest fire escape to your room. Even if it is permitted, never smoke in a hotel or hostel room as furnishings can catch fire in seconds.
Be safe when sleeping
If you are staying in a hotel, lock your door when sleeping or relaxing in your room. If you are staying in a hostel, try to sleep with your valuables in a pouch around your waist and keep your bag as far from sight as possible.
Be friendly
Treat all those you meet with politeness and respect. If you are staying in a hostel dormitory, make an effort to briefly greet your roommates and find out their names.
Do not carry expensive looking luggage
If staying in a hostel, leave expensive or designer luggage at home and opt for a plain, basic bag instead. Flashy suitcases or rucksacks may make you a target for thieves.
Socialise safely
If you make friends with fellow hotel or hostel guests and are planning a night out or a trip together, let somebody know where you will be. Wherever possible, opt for large group outings to somewhere close by. Keep an eye on your drinks when out, to avoid date rape.
Protect your health
Before travelling, check to see if there have been any recent outbreaks in your destination country and take any advised precautions. Make sure that your hostel is clean and free from mice or rats; read reviews before booking. Be sure to pack insect repellent, a small First Aid kit, cleansing wipes and tissues. Before drinking tap water at your hotel or hostel, enquire as to whether it is safe to do so.
A little common sense is all you need to secure that your stay in a hotel or hostel is a happy, healthy and safe one. Follow all these suggestions and you are sure to sleep soundly in your hotel or hostel bed.
You might also like...