A Burglary Made Me Protect My Home: A Case Study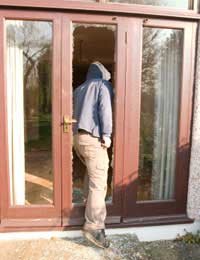 A burglary is everyone's worst nightmare. Returning home to find that someone has broken into your home, looked through your possessions and taken things, is an incredibly unpleasant experience.
Sadly, many people suffer more acutely because they have not given enough thought to their security arrangements. We spoke to a man whose North London house was broken into about his own home security, and how the experience has changed the way he thinks.
Tell Us About the Incident. What Happened?
About six months ago, I went out for the day with a friend of mine. We had a fantastic day, went to a couple of restaurants, and came home. I live in North West London, in a quiet neighbourhood and I have never had any trouble at all.
So I knew as soon as I got in that something was wrong. The front door was locked and closed as it normally is, but in the hallway there were drawers open, and bits and pieces all over the floor.
As it turned out, in the middle of the afternoon, in broad daylight, someone had forced open our back window and just walked in. They took laptops, a TV, and jewellery. Worse, in some ways, was the fact that they took my friend's car. He had left it outside the house while we went out, and his keys were on the table, so they just drove it away.
Were You Insured?
His car obviously was, but no, we didn't have contents insurance. It's stupid, but it's just one of those things that we had never got round to doing. Obviously now we realise the value of insurance!
What Steps Did You Take Straight Away?
Well we called the police, and they came over and dusted for fingerprints and so on. That was quite a hassle, because we couldn't be in the house while they were doing it. So I had to go and stay with a friend for the night. Inevitably, they haven't found whoever it was that broke in yet.
After that, the first thing I did was to buy contents insurance. A bit late, I know! But I realised that it was one of those things that I really needed to do.
But maybe the most important thing was that it made me think much more carefully about my home security. I didn't have an alarm or anything like that, and when I thought about it properly I realised that our house was actually really unsecure.
I got all the locks changed, mainly because I was worried that whoever had broken in would have taken a key. But I got them changed to proper heavy-duty deadlocks, and put these on the front and back doors.
Then I bought a decent alarm system. I have one of the systems that links directly to a security company, so if it gets set off they either call you to see if you're alright, or they send someone round.
I also had the windows changed. I bought some newer, fully locking windows and, on the back of the house, I had bars fitted on the outside. I wasn't sure about this to begin with, but I realised that the sacrifice you make in terms of light is really insignificant when you think about the extra protection it gives you. Plus, although it was a fairly significant investment, the new windows and the alarm did bring my insurance premiums down.
How Has it Changed Your Mindset?
Well that's one of the main things about being burgled. You don't realise it until afterwards, but it really changes the way you think. For a while I was quite paranoid about being at home on my own. I was worried that there was going to be someone there when I got in – all pretty unrealistic, but it does make you worry.
But I suppose the most important change is that it made me think more seriously about home security. It just wasn't something that I had worried about before, despite living in London. Now I actually feel much safer, because I know that I have decent protection against it happening again. And if it does happen again, at least I'm insured this time!
You might also like...