What I Learnt When My Car Broke Down : A Case Study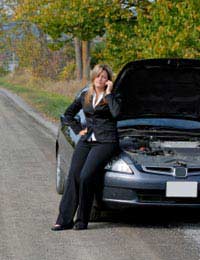 You always think it will never happen to you but unfortunately Janine Cutler had the bad luck to experience her car breaking down. "It was at night, in the rain, on a country road. Your basic worst case scenario. I can laugh about it now but at the time it was anything but funny." Janine feels that she learnt a lot from her experience "I would definitely be more prepared now if it ever happened again."
Mobile Phone
"Always carry your mobile phone and make sure that it is charged and topped up with credit. My phone was my lifeline when I broke down. I don't know what I would have done without it." Janine was able to phone her partner and tell him what had happened to her. Just as importantly she was able to phone the AA and alert them to her breakdown. Unfortunately Janine had not charged it up before her journey and her phone battery ran out while she was waiting to be rescued. "Thank goodness it lasted long enough for me to make my calls." Always charge your phone before making long car journeys, particularly if you will be travelling alone.
Breakdown Cover
"It had seemed like a bit of a waste of money but was I glad to be a member of the AA" Janine says. Taking out membership of a car rescue service such as the AA or RAC may prove a sound investment in times of difficulty. With one phone call you can alert them to your difficulty. They will ask for your location and then aim to get a mechanic out to you as soon as possible. The alternative to this is relying on the emergency services and contacting the local police for assistance. This may be limited and the time taken for them to reach you will depend on what other demands they have on their time. They also may not be able to fix your vehicle. Membership of a breakdown recovery service means that your vehicle will be fixed or an alternative one found for you so that you can continue your journey.
Basic Car Maintenance
"I knew nothing about how my car ran. In fact it had simply run low on oil and was easily fixed by the mechanic. But I could have done it myself if I'd known. Since it happened I've gone to evening classes on car maintenance and I would really recommend that to anybody." Familiarity with the basic running of your vehicle could make all the difference between you becoming stranded and getting back on the road again.
Service
An alternative to fixing car problems yourself is to ensure that your car is regularly serviced, especially before long journeys.
Supplies
"It was a freezing cold night when I broke down and luckily I had my coat on but I could really have done with a blanket to wrap round myself particularly if I had had to wait longer than the two hours I waited. I now keep a selection of supplies in my boot." Janine's supplies include a travel blanket, walking boots, a torch, water, a first aid kit and warning lights. "Warning lights would have been very useful. As it was I just switched on my hazard warning lights and thankfully other cars avoided me." She also now makes sure that she has a flask of coffee, sandwiches and fruit in the car when making a long journey.
"Breakdowns are rare and hopefully you will not experience one but you could be unlucky and then it is good to be as prepared as possible."
You might also like...