Stay Safe When Travelling Home at Night: A Case Study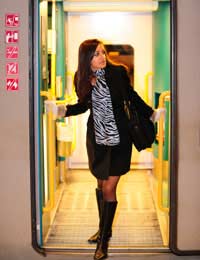 For many of people, particularly women, personal safety is the first thing on the mind when it comes to planning a route home at night. Whether walking, taking a taxi, driving or hopping on a bus or train, risks rise as nightfall descends. We spoke to Florence Miles, a student in London, to find out how she stays safe when travelling home late.
Q. Do you worry about making your way home at night?
A. I wouldn't say that I worry, but safety is certainly a priority for me at night time. I'm very careful about making my journey home as safe as possible, even if I've had a bit too much to drink.
Q. What steps do you take to ensure that you arrive home safely when walking?
A. If I'm walking, I'll try to come home with friends. Often, I'll invite friends to stay the night so that we can travel back to my flat together and sometimes they'll ask me to theirs for the same reason. If I am walking alone, I keep to well lit, busy areas and walk confidently and with purpose. I know not to stop for anyone. If I'm wearing heels on a night out, I'll often carry some light, flat shoes in my bag for the journey home, partly because I don't want to wake up with blisters and partly because I want to be able to walk at speed if necessary. I've got a great pair that roll up, so they don't take up too much room in my bag! I keep my valuables zipped away inside my bag and avoid talking on the phone when I'm walking alone. I also carry a rape alarm keyring, just in case.
Q. How do you keep safe on the night bus?
A.The night bus can be a pretty rough place in London at night, particularly on Friday and Saturday nights when lots of people have been drinking. I always make sure to sit near others and I avoid the top deck. Sometimes there are people on the bus who are looking for trouble, so I think it's important to avoid eye contact with anyone who is acting up.
Q. Do you take taxis often?
A. I take taxis now and then but, as a student, they're too expensive for me really. I have plenty of licensed taxi and cab companies names and numbers stored in my phone, for those nights when I might decide to take one at the last minute. I've heard the horror stories about girls who have taken unlicensed cabs and would never put myself in danger that way.
Q. What about when you're taking the train?
A. As is the case with the night bus, the last train home is often full of drunk people. Most are harmless, obviously, but there are the odd few that you need to watch out for. Again, I'll make an effort to sit near others and away from anyone I'm unsure about.
Q. What is your top personal safety tip for travelling home at night?
A. However I'm planning to get home, if I'll be alone I make sure to ask a friend I've been out with that night to expect a text from me when I arrive home safely. That gives me peace of mind.
Florence clearly has her head screwed on when it comes to personal safety. She takes carefully, sensible measures to stay as safe as possible but does not let personal safety worries get in the way of her healthy social life.
You might also like...