I Conquered My Personal Safety Anxieties: A Case Study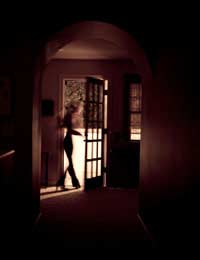 It is important to think about and maintain your personal safety, but what happens when personal safety worries get the better of you? Tara Snaith, an administrative assistant living in East London, was so concerned for her personal safety that, for a period, she experienced anxiety and minor agoraphobia. We got in touch with her to find out how she combated her personal safety fears.
Q. What caused your personal safety anxieties?
A. I live in a relatively rough neighbourhood, so I always need to be on the lookout for potential dangers. A few years ago though, I was returning home on a rainy day and stopped outside the door to my flat to retrieve my key from my bag. A man approached me, asking if I had change for a two pound coin. I told him I didn't and said goodbye. He then began to harass me, moving towards me, attempting to touch me, saying sexually explicit things and propositioning me repeatedly. I asked him to leave and he fired questions at me. How old was I? Was I married? Is this where I lived? I ran away, terrified. From that point onwards, personal safety was constantly on my mind when I was out and about.
Q. How did your anxieties affect you?
A. My worries affected me in numerous ways. I wouldn't go out at night unless there was someone who could walk or drive me home. Sometimes I would take a taxi home at night, but couldn't afford these on a regular basis. I started to dress more conservatively to avoid attention on the street, giving up my short skirt and heels and replacing them with baggy trousers and trainers. When I was out alone, my heart would be pounding and I'd see all strangers as a potential threat. I began to experience anxiety during the day too, and would always stay away from quiet areas. I often left my phone and other valuables at home, as I was worried about getting mugged too.
Q. How did you conquer your personal safety fears?
A. I got the better of them one step at a time. I realised that, whilst it is important to protect your personal safety, it shouldn't have been affecting my sense of freedom, my social life, my behaviour, or my mood to that extent. I went to see my doctor, who put me in touch with a counsellor. I only went along to counselling sessions for a few months, but they boosted my confidence enormously. I took things fairly slowly, accepting more social invitations, having more fun with what I wore and walking alone at night where necessary, keeping to safe areas. I also learnt a few relaxation and motivational techniques, which proved very useful.
Q. How do you manage your personal safety these days?
A. I think it would be fair to say that I'm still probably more wary than others. I will still take time to plan my route home, making it as safe as possible. I'll go out in heels but will keep a pair of flats in my bag for walking home. I think these are all sensible, rather than excessive, steps though. Recently, I've been making an effort to walk with confidence. This makes me feel safer and happier in public spaces.
Finally, Tara has found a workable balance between being safety conscious and enjoying getting out and about. Everyone needs to remember the importance of personal safety but it is vital to keep things in perspective and live life to the full.
You might also like...