Personal Safety When Withdrawing Money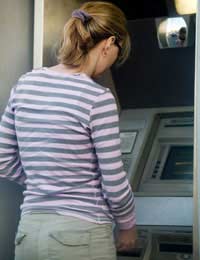 What are the risks involved in withdrawing money? ATM machines are almost always on a street or open place and are easy targets for criminals. Tricks they'll use range from the simple distract-and-pickpocket to the sophisticated machine that reads the numbers directly from your card. How can you stay safe?
Types of ATM Theft
The most common ATM theft is carried out using a 'skimming' device. This is a little machine that fits over the card slot and transmits your card details to the thief, who is often waiting nearby. They now have all they need to reproduce your card; to complete the theft, they need your PIN number. To get this they may attach a second device – a camera – to the machine; or they might simply hang around behind you while you use your card.
Another type of ATM theft involves a similar device, attached by the criminals to the ATM machine. This one is designed to suck in your card and refuse to spit it out. The thief will stand nearby and act concerned, suggesting you try the transaction again (while making a mental note of your PIN). After you've left to ring your bank, the thief will quickly remove the device and your card, and use it in another machine before you have the chance to cancel it.
Withdrawing Money on Holiday
Carrying an ATM card is easier and safer than carrying a bundle of foreign currency or travellers' cheques. What's more, you'll get more cash for your pounds because the bank will usually provide currency at the wholesale exchange rate. You can use a Visa card at any PLUS ATM machine, from Miami to Malaysia – there are more than one million worldwide. Likewise, MasterCard is accepted at CIRRUS machines, which offer another million cash withdrawal sites all over the globe. Here are some tips for safe use on holiday:
Let your bank or credit card company know that you're going, in case they suspect fraud and refuse access
Keep your card in a money belt, or in a hotel safe when you don't need it
Keep a back-up card with your partner or back at the hotel
Memorise your PIN number – don't write it down anywhere
Withdraw plenty of money at once, rather than lots of small amounts
If in America and you choose a drive-through ATM, lock the car before getting out
If you're in a dangerous area or worried about personal crime, carry a disposable zip-up purse or wallet containing a few notes, and hand this over if challenged.
How to Withdraw Money Safely
Public ATMs are dangerous – minimise your risks by using these simple tips:
Choose your machine with discretion; pick a machine in a public place with plenty of space around it. Avoid machines that are in the dark and those with people loitering nearby.
Use the ATM with another person present, who can keep an eye out while you make the transaction.
Have your card ready to use, rather than fumbling around for it at the machine.
Check the machine over for anything odd before you put your card in. Look carefully at the card slot and the overhang, where miniature cameras could be installed.
Cover the keypad while you enter your PIN.
If you use a machine inside a bank after hours, and you have to slide your card through a slot to open the door, make sure you don't let anyone else in behind you.
If you think someone is watching your transaction, press cancel and find a different machine.
If the machine swallows your card, don't leave – telephone your bank on the spot. Tell anyone queuing that the machine is faulty.
Put away your cash before turning away from the machine, including your receipt.
You might also like...