I Was a Victim of Identity Theft: Case Study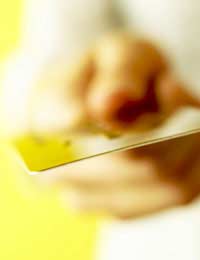 After receiving a phone call from her bank, Liliana Martins (38) was stunned to discover that she had become a victim of identity fraud. After spotting that her card had been used abroad, they quickly got in touch, as foreign transactions are barred on her Abbey National bank account.
Card Cloning
The bank told Liliana that her card had probably been copied so that it could specifically be used in other countries, as there did not appear to have been any transactions made in the UK. While one of the most common ways of cloning cards involves tampering with cash machines, it could even have been done by a cashier who gained access to her PIN when she used the card in a shop and had access to a card cloning machine. As her bank informed her, cloning cards in this way can take a matter of seconds.
As the card was copied without Liliana's knowledge and the attempted transactions did not show up on any of her bank statements, she can only guess as to how long her card was being used before the transactions came to the attention of the bank, but she estimates that it was between two and three months.
Deterrents
Fortunately for Liliana, the thief could not withdraw any money from her account as a result of the fact that her account is not authorised for use abroad. She did not keep a significant amount of money in her bank account and had no overdraft facility, it would not have been possible for more than around £200 to have been withdrawn from Liliana's account.
Liliana was understandably stunned to discover that she had been targeted by identity thieves. She says, "I was very shocked as we think that these things will only ever happen to other people. I was also angry that someone would dare to do this. I felt almost impotent and very frustrated, but also glad that my bank had a stop on my card and that I did not have much money there. Obviously I was very happy that they did not succeed!"
Protecting Against Identity Theft in the Future
Liliana's experiences show that identity fraud can happen to anyone, even those of us who are careful with bank details. To decrease the chances of falling victim to identity fraud again, Liliana has put certain measures into action. She says, "I have decided to keep little money on the cards that I use the most often. Instead, I am keeping my money in my savings account and transferring what I need to my current accounts. With Internet banking, this is quick and easy to do. I also shred envelopes and letters that have my name, address or phone number on them."
Knowing how easily her card could have been cloned, Liliana is ultra cautious when using her card. She says, "I am now really careful when taking money out of a cash machine, including covering my PIN and using reputable banks whose cash machines cannot be tampered with. I am also wary of anyone taking the card out of my sight when a transaction is made."
You might also like...