Mobile Phone Safety: A Case Study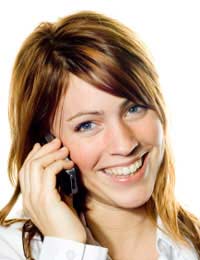 Mobile phone safety tends to be a debate that crops up regularly. As well as the concern that using mobile phones in public can compromise your personal safety, there are also fears that using mobile phones on a regular basis can be dangerous in its own right due to radiation. When it comes to mobile phone safety, Louise Turner (25) is one of the many people who take steps to limit the chances of having her personal safety affected by her mobile phone use.
Don't Show Off Your Mobile Phone
Louise warns against making a show of your mobile phone in public places. Even showing off your mobile phone to your friends or visibly displaying your mobile phone on a table in front of you can encourage a would-be thief to steal it, particularly if it is a desirable or expensive model. Louise says, "I make sure that I have my mobile phone with me at all times. Usually it will stay in my pocket unless I receive a call or text message, or need to check the time. This reduces the opportunity that a thief has to take it from me".
Using Your Mobile Phone in Public
Using your mobile phone in public places can have a significant impact on your personal safety. This usually happens because most people's attention is predominantly taken up by the conversation that they are having, which means that they are an easy target for attackers. There are some situations in which you are especially susceptible when using your mobile phone in public, such as after dark and in deserted places. Louise is especially careful when using her mobile phone in these situations, and makes the calls as brief as possible. The above advice about not showing off your mobile phone also applies here, as there are likely to be less people around to help if an attacker does approach you after spotting your mobile phone.
Keeping Your Mobile Phone Number Private
In line with advice from personal safety experts, Louise never gives out her mobile phone number to people that she doesn't know. She also makes a point of not answering her mobile phone if she does not recognise the number, or if it the caller's number does not show up on the screen.
Other Advice
It is often recommended that you lock your mobile phone's keypad when it is not in use. This means that even if a thief does take off with your mobile phone, he or she cannot use it if they don't know the PIN to unlock it. This is not always possible though, depending on the type of mobile phone that you have. Louise's mobile phone does not have this security option, although she would make use of it if it did.
Radiation Concerns
Experts have warned against using mobile phones too frequently because of the possible effects of radiation, but as is the case with many young people, Louise admits that radiation fears are not a big concern to her. She says, "I mainly use my mobile phone to send and receive text messages, so it isn't constantly glued to my ear. In the average week, I probably make a few quick calls, but I don't make long calls that often".
You might also like...